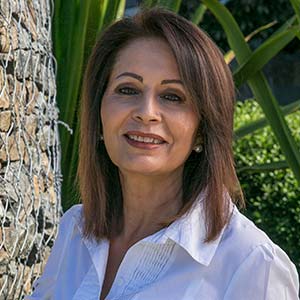 For Ghazal Basit, real estate is about caring for people's needs and helping them achieve their desired results. "Service to a customer should start from the very first phone call and must not end just because the contract is signed!"
Ghazal has had passion for real estate for as long as she can remember, she believes in a culture of trust, integrity and seeing things from the seller's perspective.
"Selling one's family home is much more than a transaction, it's a lifetime of memories and emotional attachment."
Ghazal really values the personal and professional satisfaction that comes from a job well done. With her knowledge and passion for maximising sale price, she likes to exceed client's expectations.
"Do it with passion or not at all " is Ghazal's motto in life for everything she does and with her pleasant personality and winning smile you will quite possibly have the best experience in real estate to date!
If you are thinking of selling or buying, call Ghazal to ensure the optimal results.
TESTIMONIALS
"Ghazal, please accept my sincerest appreciation for your efforts to date, working with you is an absolute pleasure. When I came up with the concept and incorporated Builder Brokers, I envisaged an environment whereby both client and Real Estate Agent could be equally supported; I saw a niche and designed the business around it. With this, I understand the importance of working with the right team (both internal and external), those that share in and understand my beliefs and mindset, and there are none more so than Ghazal Basit.
Ghazal and Builder Brokers formed a formidable alliance immediately, we both share the same vision for our clients and the results are starting to speak for themselves. We're currently assisting Ghazal with almost half a dozen different opportunities and we look forward to growing and strengthening our relationship as time moves forward. We've now been able to establish new relationships off the back of our success with Ghazal, locally with other leading Real Estate Agents.
I find her to be an absolute delight to work with, her attention to detail helps us in providing the best result time and time again for each client, and as we all very well know each of our clients situations are unique – our approach to delivering the right solution is tailored and Ghazal is paramount in getting the delivery right each time.
If any of your clients would like to speak with me directly about this, please send me their details and I would be more than happy to discuss this with them further. Congratulations and thank you Ghazal!"
"We were lucky enough to have Ghazal as our agent – she was absolutely brilliant! She made the whole process so easy and flawless. She sold our apartment in one week and this is a testament to her personal and outstanding approach to her comprehensive knowledge of how the property market works. Highly recommend Ghazal as an outstanding agent." M. Dendle
"An amazing agent! Ghazal sold my property in a week. She is very professional. I strongly recommend her to all. She's confident, personable and has an eye for attention to detail. I will use her services again."
"Ghazal Basit has been an absolute pleasure to have as a sales agent. Proactive and with some fantastic ideas she actually achieves results. Our property had been listed for a couple of months prior to Ghazal's appointment, and within only a few weeks she had a result. I would recommend her to anyone thinking of selling their property, she will not disappoint… Thanks again Ghazal, you're tops in my book :)"
Utopia is a 26-level venue for thrill seekers and is Brisbane's most decadent new lifestyle address.
From the More info
Beds:
2
Baths:
2
Parking:
1
Beds:
2
Baths:
2
Parking:
1